Men's swimming & diving defeats Le Moyne
---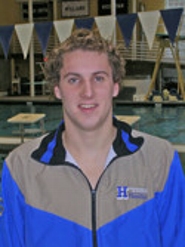 Michael Brennan '12 swept the distance freestyle events to help lead Hamilton College to a dual meet victory against visiting Le Moyne College at Bristol Pool on Feb. 6.
The final score was 153-131. Le Moyne is an NCAA Division II program in swimming and diving.
Brennan finished first in the 500-yard free with a time of 4:59.13 and in the 1,000 free with a time of 10:23.60. Jason Brown '09 was runner-up to Brennan in the 500 with a time of 5:03.17.
Jake DeConinck '11 took first in the 200 free in 1:47.52 and his twin brother, Chris, claimed first place in the 50 butterfly with a time of 24.47 seconds. Steve Chaponis '10 edged Bowie Sievers '11 in the 100 fly in one of the more exciting races of the evening. Chaponis touched the wall first in 54.11 seconds and Sievers was .01 second behind. Sievers also ended up second in the 200 individual medley (2:02.51).
Jared Mereness '10 was second in the 50 breaststroke with a time of 28.94 seconds. In diving, Talpey Matt '12 finished first in the 3-meter springboard with 182.48 points.