Men's swimming & diving defeats Rensselaer
---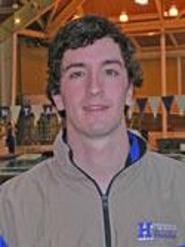 Jake DeConinck '11 and Tom Cyran '12 finished first in two events apiece to lead Hamilton College to a 139-102 win against Rensselaer in a dual meet at Hamilton's Bristol Pool on Feb. 6.
Cyran touched the wall first in the 1,000-yard freestyle with a time of 10 minutes, 33.25 seconds. In the 500 free, he took first place with a time of 5:02.22. DeConinck finished in first place in the 200 free in 1:46.09, and in the 100 free with a time of 48.42 seconds.

DeConinck was also a member of the quartet that took first in the 400 free relay with a time of 3:17.72. The other members of the relay were Jon Fung '12, Stephen Chaponis '10 and Chris DeConinck '11. Hamilton also earned a victory in the 400 medley relay. The foursome of Bowie Sievers '11, Ian Nichols '13, Chris DeConinck and Taylor Hogenkamp '13 posted a time of 3:41.58 for the win.
In the 50 free, Hogenkamp took first in 22.14 seconds. Nichols claimed second in 22.59 seconds. Sievers recorded another victory in the 400 individual medley with a time of 4:18.98. Jared Mereness '10 finished first in 2:16.34 in the 200 breaststroke. Chris DeConinck claimed second place in the 200 butterfly with a time of 2:01.85.
In the 100 free, Hamilton swept the top three spots. Jake DeConinck earned the win, while Hogenkamp claimed second in 48.67 seconds and Andrew Brodsky '11 took third in 49.93 seconds. Diver Beau Brians '13 came in second place in the 3-meter springboard with 220.65 points.
The Continentals next compete in the three-day NESCAC championships, which will start on Friday, Feb. 26, at Williams College.