Men's swimming & diving drops dual meet at Rensselaer
---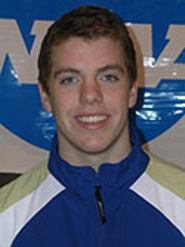 Hamilton College swimmers finished first in eight events, but the Continentals were edged 130-113 by Rensselaer in a dual meet at Rensselaer's Robison Pool on Feb. 2.

John McBratney '16 captured first place in the 1,000-yard freestyle with a time of 10:07.63, and in the 500 free with a time of 4:51.35. Taylor Hogenkamp '13 won the 100 free in 48.23 seconds and the 200 free in 1:48.05. Reid Swartz '15 was victorious in the 200 individual medley with a time of 2:01.27, and in the 200 backstroke with a time of 1:58.70. Conor Collins '14 ended up fourth in a competitive 200 free field with a time of 1:49.78.

Julian Ziaggi '16 and Beaumont Brians '13 were solid in the springboard diving events. Ziaggi finished runner-up on the 3-meter board (276.05 points) and was third on the 1-meter board (274.20). Brians took fourth place in both the 1- and 3-meter events with 270.85 and 266.65 points, respectively.

Hamilton (4-6 overall) swept the relays. Swartz, Ian Nichols '13, Alex Jones '16 and Hogenkamp were members of the 200 medley relay that finished in 1:39.70. Collins, McBratney, Jeremy Trombetta '15 and Andrew McWhirter '15 made up the 200 free relay that posted a time of 1:31.23.

The Continentals are off until the 2013 NESCAC Championship at Wesleyan University. The three-day event begins on Friday, Feb. 22.