Men's swimming & diving drops final dual meet of season
---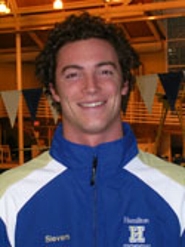 Bowie Sievers '11 finished first in two events and second in another in Hamilton College's dual meet loss at Rensselaer on Feb. 5.

The dual meet was the last one this season for Hamilton, which competes in the NESCAC championship at Bowdoin College from Friday, Feb. 25, to Saturday, Feb. 27. The final score was 131-110.

Sievers captured first place in the 400-yard individual medley (4:23.06), and came from behind to win the 200 butterfly by .06 seconds with a time of 2:00.38. He also finished second in the 200 breaststroke with a time of 2:16.04.

Jake DeConinck '11 was a winner in the 200 freestyle (1:48.31) and the 100 free (48.46 seconds). DeConinck anchored a win for the Continentals in the 400 free relay. Taylor Hogenkamp '13, Jon Fung '12 and Andrew Brodsky '11 rounded out the relay, which finished with a time of 3:13.58.

Fung took first place in the 50 free with a time of 21.94 seconds, and was second in the 100 free in 49.27 seconds. Tom Cyran '12 finished third in the 500 free with a time of 4:59.56. Beau Brians '13 was third in 3-meter springboard diving with 264.65 points.