Men's swimming & diving edged by Union
---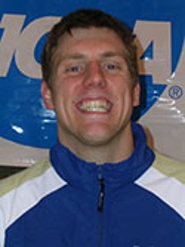 Hamilton College swimmers and divers finished first in six events, but the Continentals lost 161-139 against Union College in a dual meet at Hamilton's Bristol Pool on Jan. 26.

Taylor Hogenkamp '13, who competed in Bristol Pool for the final time, finished either first or second in three individual events and helped lead the Continentals (3-5 overall) to victory in the 400-yard freestyle relay. Hogenkamp captured the top spot in the 50 free (22.39 seconds) and the 100 free (48.73 seconds), and was runner-up in the 200 free (1:46.43). The winner of the 200 finished just .09 seconds ahead of Hogenkamp.

Reid Swartz '15 took first place in the 200 backstroke (1:57.84) and the 200 individual medley (2:02.61). Swartz also finished second in the 100 back with a time of 53.83 seconds.

Ian Nichols '13 ended up second in the 100 breaststroke (1:03.84) and the 200 breast (2:20.42). John McBratney '16 posted a pair of runner-up finishes with a time of 10:01.74 in the 1,000 free and 4:53.33 in the 500 free. McBratney finished less than a second behind the winner in both distance free events.

Dan Levine '13 was third in the 200 butterfly with a time of 2:06.91, and Michael Weinzierl '15 was second behind Swartz in the 200 IM in 2:04.52. In diving, Beaumont Brians '13 recorded a victory in the 3-meter springboard with 269.10 points, and Julian Ziaggi '16 took second in the 1-meter board with 263.77 points.

The winning 400 free relay finished with a time of 3:16.81. Swartz led off the relay, followed by McBratney and Nichols, and Hogenkamp anchored the relay.

Hamilton travels to Skidmore College for another dual meet on Friday, Feb. 1.