Men's swimming & diving falls in last home meet
---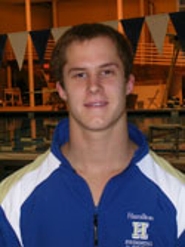 Jake DeConinck '11 captured first place in two freestyle events as Hamilton College lost a dual meet against Union College at Hamilton's Bristol Pool on Jan. 29.

DeConinck won the 50 free (22.02 seconds) and the 100 free (48.08 seconds). Taylor Hogenkamp '13 was runner-up to DeConinck in the 100 with a time of 48.29 seconds. Hogenkamp finished first in the 200 free with a time of 1:47.71.

Hogenkamp, Chris DeConinck '11, Andrew Brodsky '11 and Jon Fung '12 guided the Continentals to first place in the 200 free relay with a time of 1:29.55.

Bowie Sievers '11 grabbed first place in the 200 individual medley (2:01.69), and was runner-up in the 1,000 free (10:18.55) and the 500 free (4:59.17). Ian Nichols '13 took second place in the 100 breaststroke with a time of 1:02.79.

Union defeated Hamilton 135-102. It was the final home meet of the season, and eight seniors were honored prior to the start of the meet: Brodsky, Chris and Jake DeConinck, Andrew McDermott '11, Brad Muldrow '11, Zach Rosenbloom '11, Sievers and Andrew Witkowski '11.

The Continentals travel to Rensselaer on Saturday, Feb. 5, for their final dual meet of 2010-11.