Men's swimming & diving places 2nd at Wesleyan meet
---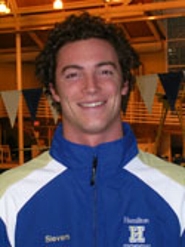 Hamilton College placed second at the five-team Wesleyan University Cardinal Invitational, which was held at Wesleyan's Natatorium on Dec. 4 and 5.

Hamilton finished with 1,127 points, and meet winner Worcester Polytechnic Institute collected 1,338.50. Trinity College was third, Wesleyan was fourth and Clark University was fifth.

The Continentals won three events, including the 800-yard freestyle relay by almost 10 seconds. Hamilton's time of 7:13.99 was just .02 off the meet record of 7:13.97. Taylor Hogenkamp '13, Chris DeConinck '11, Bowie Sievers '11 and Jake DeConinck '11 were the relay members.

Sievers took first place in the 1,650 free with a time of 17:33.23. He was runner-up in the 200 individual medley (2:02.24), 400 IM (4:22.86) and 200 breaststroke (2:18.93). He finished just .14 behind the winner in the 400 IM. He placed third in the 500 free with a time of 4:57.21.

Ian Nichols '13 was the other winner, as he captured first place in the 50 breast with a time of 27.83 seconds. Nichols was second in the 100 breast (1:01.76) and third in the 200 breast (2:22.14).

Jake DeConinck placed in the top three in four events. He was second in the 50 butterfly (24.18 seconds) and 200 free (1:45.86). He ended up third in the 50 free (22.01) and 100 free (48.29).

Hogenkamp raced to second place in the 100 free (48.24) and third place in the 200 free (1:47.92). Jonathan Fung '12 was third in the IM with a time of 56.89 seconds.

In diving, Beau Brians '13 recorded a pair of third-place finishes. Brians was third in the 1-meter springboard with 202.90 points, and third in the 3-meter with 191.35 points.