Men's swimming & diving places 8th at NESCAC championship
---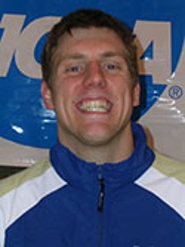 Hamilton College placed eighth out of 11 teams at the 2013 NESCAC Championship, which ended on Feb. 24 at the Wesleyan University Natatorium.

RESULTS

John McBratney '16 finished eighth in the 1,650-yard freestyle with a time of 16:31.89. Taylor Hogenkamp '13 ended up fourth in the consolation final of the 100 free (12th overall). Hogenkamp posted a time of 46.87 seconds in the morning's preliminary heats.

Reid Swartz '15 was eighth in the consolation final of the 200 backstroke (16th overall), and Michael Weinzierl '15 took seventh place in the preconsolation final (23rd overall) of the same event. Swartz's time of 1:54.91 in prelims landed him in third place on the team's top times list. Weinzierl's 1:57.20 clocking in prelims put him in sixth place on the top times list.

Hamilton's 400 free relay captured fifth place with a time of 3:09.45. Swartz, McBratney, Hogenkamp and Ian Nichols '13 were the members of the relay.

The Continentals racked up 525 team points, and Williams College won the team title with 1,936.5 points.