Men's swimming & diving places second at Invitational
---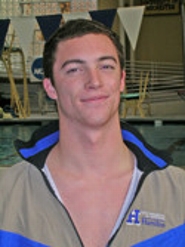 Bowie Sievers '11 helped lead Hamilton College to second place out of six teams at Wesleyan University's two-day Cardinal Invitational on Dec. 6 and 7.
Hamilton's 994 points was second to host Wesleyan's 1,050 in a competitive meet. The Continentals were in first place after the first session on Saturday afternoon. Hamilton bested Clark University, Trinity College, Worcester Polytechnic Institute and Cabrini College for the runner-up slot.
"It's a tremendous amount of swimming in a small period of time," head coach T.J. Davis said. "The ability for our kids to continue to come back time and time again is amazing. It was a very challenging weekend considering how many events they swam over the course of a day and a half. We were neck and neck with Wesleyan the whole time. We pushed them, they pushed us. It was a very competitive atmosphere."
Sievers finished with the fourth-most points of any male swimmer and recorded one of the Continentals' four first-place performances. He won the 500-yard freestyle with a time of 4:54.96. Teammate Michael Brennan '12 was fourth (5:00.07) and Jason Brown '09 was right behind in fifth place (5:04.20).
Jake DeConinck '11 had a career day with two in-season bests for event wins. He took the 200 free in 1:45.43 and the 100 free in 47.49 seconds. Alex Paridon '09 was a few spots behind in fifth place with a personal-record time of 48.78 seconds. Paridon also recorded a career-best time of 22.17 seconds in taking fourth in the 50 free. DeConinck tied for second place in 21.93 seconds.
Hamilton went one-two in the 1,650-yard free. Brennan was first in 17.32.21 and Brown was ever-so-slightly behind at 17.32.69.
"To go one-two in the mile this morning was extra special," Davis said. "We had a freshman and a senior in the top two with the torch being passed along, so to speak."
Sievers added to his victory in the 500 free with a second-place finish in the 400 individual medley (4:22.36). He took third in the 200 back with a time of 2:04.61 and third in the 200 IM (2:01.00).
Sievers beat out Chris DeConinck '11, who touched in at fifth place (2:04.72) in the 200 IM. The duo was also close in the 100 butterfly and 200 fly. DeConinck finished fourth (53.74) in the 100, while Sievers was fifth in 54.44 seconds. They flip-flopped places in the 200, where Sievers (2:01.61) edged DeConinck (2:02.40) for third place.
Brothers Jake and Chris DeConinck took third place (24.18) and fourth place (24.21) in the 50 fly, respectively. Andrew Brodsky '11 was fifth in the 50 back in 27.27 seconds.
Jared Mereness '10 recorded a trio of third-place finishes in the breaststroke events. Mereness' time in the 50 was 28.57 seconds. He finished the 100 in 1:03.41 and the 200 in 2:19.95.
Chris DeConinck and Stephen Chaponis '10 took fourth and fifth place in the 100 IM. DeConinck touched in at 56.97 seconds, while Chaponis was right behind in 57.12 seconds.
Diver Zak Krassin '11 took fourth place in the 1-meter springboard with 225.45 points. He secured fifth place in the 3-meter board with 212.55.
The swimming and diving programs are off until Saturday, Jan. 3, 2009, when the Continentals travel to Amherst College for a dual meet at 2 p.m.