Men's swimming & diving 7th after day one of NESCAC championships
---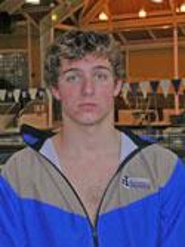 Ian Nichols '13 took second place and set a school record in the 50-yard breaststroke as Hamilton College competed in the first day of the 2010 New England Small College Athletic Conference championships at Williams College's Muir-Samuelson Pool on Feb. 26.
The Continentals recorded 264 team points and are in seventh place after day one of the three-day championships. Williams leads the 11-team field with 740.5 points.
Nichols finished second in the 50 breast championship final in 26.60 seconds, breaking the previous record of 26.94 seconds, which was set by Jared Mereness '10 in 2009. Mereness finished sixth in the event in 26.78 seconds.
In the 50 butterfly, Chris DeConinck '11 finished fourth in the consolation final and 12th overall in 24.00 seconds. DeConinck was slightly better in the preliminary heats as he clocked a time of 23.99. Twin brother Jake DeConinck '11 was right behind in fifth place in the consolation final (13th overall) with a time of 24.01. His time in the preliminary heats was 23.89 seconds.
Bowie Sievers '11 finished in eighth place in the 200 individual medley with a time of 1:56.99. In the prelims, Sievers touched the wall in 1:56.70.
Hamilton will continue to compete in the NESCAC championships on Saturday, Feb. 27, and Sunday, Feb. 28.