Men's swimming & diving seventh after day two of NESCAC meet
---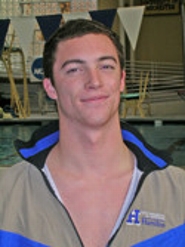 Hamilton College remained in seventh place out of 11 teams at the New England Small College Athletic Conference championships after the second day of competition at Wesleyan University's Wesleyan Natatorium on Feb. 28.
Bowie Sievers '11 crushed a 13-year-old school record on his way to finishing second in the 400-yard individual medley. Sievers touched the wall at 4:04.28, which bested the previous record of 4:07.19 set in 1996. His time met a provisional cut for the NCAA Division III championships.
Sievers also helped Hamilton's 800 freestyle relay to a provisional national meet cut. The relay of Andrew Witkowski '11, Michael Brennan '12, Sievers and Jake DeConinck '11 placed third with a time of 6:55.65.
Brennan placed fifth in the 1,000 free with a time of 9:48.99, Jason Brown '09 was eighth in 9:56.27 and Witkowski was just behind in ninth place with a time of 9:56.38.
Jared Mereness '10 recorded another NCAA provisional cut as he placed sixth in the 100 breaststroke with a time of 58.44 seconds. DeConinck finished in seventh place in the 200 free with a time of 1:44.19. His time in the morning prelims was 1:43.22.
The third and last day of NESCAC championship competition is Sunday, March 1. The finals are scheduled to start at 5:30 p.m.