Men's swimming & diving sinks Skidmore
---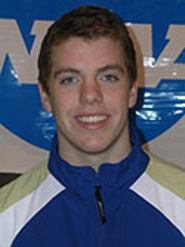 Hamilton College's John McBratney '16 finished first in two events and was runner-up in another, and the Continentals defeated Skidmore College 166-128 in a dual meet at Skidmore's Williamson Sports Center on Feb. 1.

Hamilton (4-5 overall) wraps up the regular season with another dual meet at Rensselaer on Saturday, Feb. 2.

McBratney won the 200-yard breaststroke (2:22.82) and the 200 individual medley (2:05.29). He also finished second in the 200 freestyle with a time of 1:47.74.

Taylor Hogenkamp '13 showed off his versatility with victories in the 50 free (22.55 seconds) and the 500 free (4:57.29). Conor Collins '14 captured first place in the 1,000 free with a time of 10:39.18, and Reid Swartz '15 took the top spot in the 200 free in 1:46.56.

Ian Nichols '13 was the winner in the 50 breast (30.38 seconds), and Alex Jones '16 claimed first place in the 200 butterfly (2:04.42). Dan Levine '13 won the 50 fly with a time of 25.91 seconds. Michael Weinzierl '15 was second in the 200 backstroke in 2:05.09.

Julian Ziaggi '16 posted two runner-up finishes in springboard diving. Ziaggi racked up 254.63 points in 1-meter diving and 248.85 points in the 3-meter board.

The Continentals owned the fastest times in both relays. Swartz, Jones, Hogenkamp and Collins were part of a 400 medley relay that recorded a time of 3:44.26. The 400 free relay of Nichols, Swartz, Collins and Andrew McWhirter '15 finished in 3:22.89.