Men's swimming & diving still 8th at NESCAC meet
---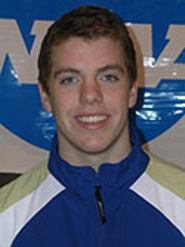 Hamilton College finished third in the 800-yard freestyle relay on the second day of the 2013 NESCAC Championship at the Wesleyan University Natatorium on Feb. 23.

RESULTS

Taylor Hogenkamp '13, Reid Swartz '15, Conor Collins '14 and John McBratney '16 posted a time of 6:55.81 in the 800 free relay. The quartet placed in other events on Saturday.

McBratney captured fifth place in the 1,000 free with a time of 9:44.68. His time was good for fourth place on the program's list of top times.

Swartz ended up eighth in the championship final for the 100 backstroke. His time of 51.33 seconds in the morning's preliminary heats met a provisional qualifying standard for the 2013 NCAA Division III Championships. Swartz is in third place on the team's top times list.

Hogenkamp finished fourth in the consolation final for the 200 free (12th overall). He recorded a time of 1:43.19 in prelims. Collins was third in the preconsolation final (19th overall) with a time of 1:45.38.

Ian Nichols '13 took first place in the preconsolation final for the 100 breaststroke (17th overall) with a time of 1:00.08. Alex Jones '16 was right behind in second place (18th overall) in 1:00.36.

Hamilton is in eighth place with 382 team points. Williams College leads the 11-team field with 1,357 points. Prelims for the third and final day of the championship meet begin at 10 a.m. on Sunday, Feb. 24. The finals are scheduled to begin at 5:30 p.m.