Men's swimming & diving wins big at Wesleyan
---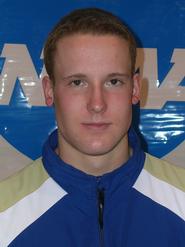 Hamilton College's Reid Swartz '15 finished first in three events and helped lead a relay to another victory as the Continentals defeated Wesleyan University 162-118 at the Wesleyan Natatorium on Jan. 7.

Swartz won the 100-yard backstroke in 55.29 seconds, the 200 back in 1:59.20 and the 200 individual medley in 2:02.76. He led off the winning 800 free relay that finished with a time of 7:25.36. Swartz was joined on the relay by Dan Levine '13, Jeremy Trombetta '15 and John McBratney '16.

McBratney captured first place in the 500 free with a time of 4:54.66 and in the 1,000 free (10:19.37). Taylor Hogenkamp '13 starred in the sprint freestyle events once again. Hogenkamp took first place in the 100 free (48.42 seconds) and the 200 free (1:49.88), and was runner-up in the 50 free in 22.32 seconds.

Michael Weinzierl '15 was second to Swartz in both the 100 back (56.73 seconds) and the 200 IM (2:04.18). Ian Nichols '13 finished runner-up in the 200 breaststroke with a time of 2:21.19.

Julian Ziaggi '16 was the lone competitor in the springboard diving events, but he posted two respectable scores. Ziaggi's point total on the 1-meter board was 225.07, and he did even better on 3-meter with 245.25 points.

Hamilton will be on the Florida Keys for a week-long training trip in Islamorada that starts on Tuesday, Jan. 8. The Continentals take on Colby-Sawyer College and Colorado College for a meet at Founders Park on Friday, Jan. 11, at 5 p.m.