Men's swimming edged by nationally ranked Middlebury
---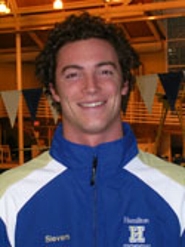 Bowie Sievers '11 captured first place in three events in Hamilton College's narrow dual meet loss to nationally ranked No. 21 Middlebury College at Hamilton's Bristol Pool on Jan. 15.

Sievers finished first in the 500-yard freestyle (4:56.87), the 1,000 free (10:19.26) and the 200 individual medley (2:00.35). He won the 500 by nearly five seconds and the IM by more than three.

Taylor Hogenkamp '13 claimed first place in the 100 free with a time of 47.98 seconds, and the 200 free in 1:47.18. Hogenkamp also helped the Continentals to victory in the 400 free relay. Andrew Brodsky '11, Jon Fung '12 and Jake DeConinck '11 were also on the relay that finished with a time of 3:12.98.

DeConinck added a pair of runner-up finishes in the 50 and 100 free. His time of 22.14 seconds in the 50 was .12 behind the winner, and Hogenkamp edged him in the 100 as DeConinck's time was 48.04 seconds. Ian Nichols '13 was a close second in the 200 breaststroke with a time of 2:18.33.

Middlebury -- a 122-109 winner -- earned 26 points in the two diving events as Hamilton did not have a diver at the meet. The Continentals travel to Amherst College for another dual meet on Saturday, Jan. 22.