Men's swimming falls at Middlebury
---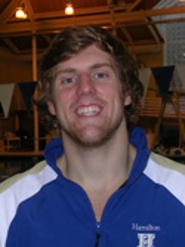 Taylor Hogenkamp '13 finished first in two freestyle events in Hamilton College's dual meet loss at Middlebury College on Jan. 14.

Middlebury defeated Hamilton by a score of 166.5 points to 64.5. The Continentals host Amherst College at Bristol Pool on Saturday, Jan. 21.

Hogenkamp captured the 200-yard free in 1:47.97 and the 100 free in 48.82 seconds. He accounted for both of Hamilton's event victories.

Ian Nichols '13 tied for second in the 200 breaststroke with a time of 2:23.23. Michael Weinzierl '15 finished second in the 200 individual medley in 2:06.22, and he was followed closely by James Crafa '12 in third place with a time of 2:06.73. Reid Swartz '15 took third place in the 200 backstroke with a time of 2:01.91.