Men's swimming falls at Union
---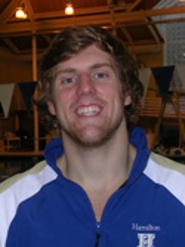 Taylor Hogenkamp '13 finished first in two freestyle events and helped two relays to victory in Hamilton College's dual meet loss at Union College in Schenectady, N.Y., on Jan. 28.

Results

Union prevailed by a score of 180 points to 114. Hamilton hosts Rensselaer for Senior Day on Saturday, Feb. 4.

Hogenkamp recorded times of 48.44 seconds in the 100-yard free and 1:47.17 in the 200 free. He anchored a 200 medley relay that won by .09 seconds with a time of 1:38.95, and a 200 free relay that ended up with a time of 1:29.74.

The other members of the 200 medley relay included Reid Swartz '15, Ian Nichols '13 and Jonathan Fung '12. Fung, Nichols and Tom Youngblood '13 were part of the 200 free relay.

Fung claimed first place in the 50 free with a time of 22.53 seconds, and Swartz was first in the 200 backstroke in 1:58.10. Swartz finished runner-up in the 1,000 free with a time of 10:15.52, and Michael Weinzierl '15 took second place in the 400 individual medley (4:30.23).