Men's swimming places second in Cardinal Invitational
---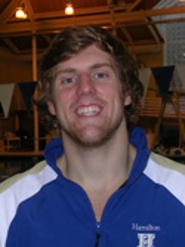 Taylor Hogenkamp '13 took first place in all three freestyle sprint races for Hamilton College at Wesleyan University's 2011 Cardinal Invitational, which was held at the Wesleyan Natatorium on Dec. 3 and 4.

Worcester Polytechnic Institute captured the team title with a score of 1281.5 points. Hamilton was second with 885 points, followed by Wesleyan with 759. Trinity College was fourth with 509 points, and Clark University came in fifth with 488.5. Click the link below for complete scores and results.

Full Results

Hogenkamp set a meet record in the 100-yard freestyle with a time of 47.25 seconds. His time in the 50 free was 21.98 seconds, and he finished the 200 free in 1:47.05.

Reid Swartz '15 captured the 500 free in a time of 4:50.98. Swartz also finished second to Hogenkamp in both the 100 and 200 free. Swartz's time in the 100 was 48.58 seconds, and he posted a time of 1:47.38 in the 200. He finished third in the 100 back in 55.51 seconds.

Ian Nichols '13 won the 50 breaststroke in a time of 28.20 seconds, and was second in the 100 breast in 1:02.62.

Swartz, Nichols, Jeremy Trombetta '15 and Hogenkamp won the 200 free relay with a time of 1:28.81. The quartet also took first place in the 400 free relay in 3:19.50. Swartz, Conor Collins '14, Daniel Levine '13 and Hogenkamp captured the 800 free relay in a time of 7:20.13.

Hamilton is off until the Key West Invitational in Florida on Saturday, Jan. 7, 2012.