Men's swimming defeats Clarkson at Key West Invitational
---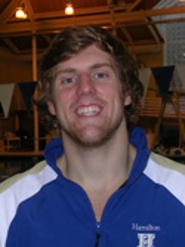 Reid Swartz '15 and Taylor Hogenkamp '13 each won two events for Hamilton College at the Key West Invitational in Florida on Jan. 7.

Hamilton defeated Clarkson University 117-31. Click the link below for complete times and results.

Full Results

Swartz took first place in the 50-yard backstroke with a time of 26.38 seconds. He also finished first in the 100 individual medley in 58.11.

Hogenkamp won the 50 freestyle in a time of 22.95 seconds. He also won the 100 free in 51.63 seconds, edging Tom Cyran '12, who finished second in 51.86.

Ian Nichols '13 placed first in the 50 breaststroke, posting a time of 29.47 seconds. Graham Boyd '14 won the 50 butterfly in 26.05 seconds.

Swartz, Nichols, Boyd and Hogenkamp won the 200 medley relay with a time of 1:45.72. Swartz, Nichols, Jonathan Fung '12 and Tom Youngblood '13 took first in the 400 free relay in 3:09.31.

Hamilton College travels to Middlebury College for a dual meet on Saturday, Jan. 14, at 2 p.m.