Men's swimming wraps up 2011-12 dual meets
---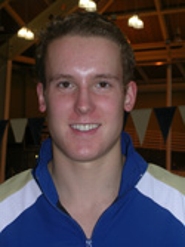 Reid Swartz '15 finished first in two events as Hamilton College lost a dual meet against Rensselaer at Hamilton's Bristol Pool on Feb. 4.

Rensselaer defeated the Continentals by the score of 131 points to 92. Hamilton is off until Friday, Feb. 24, when the Continentals travel to Williams College to compete in the 2012 NESCAC Championship for three days.

Swartz won the 200-yard individual medley with a time of 2:00.80, and captured the 100 freestyle in 49.25 seconds. He led off Hamilton's winning 400 free relay that finished with a time of 3:17.32. Jonathan Fung '12, Conor Collins '14 and Taylor Hogenkamp '13 joined Swartz on the relay.

Hogenkamp led a trio of Continentals that swept the top three places in the 200 free. Hogenkamp's time was 1:49.46, Collins was second in 1:49.65 and Tom Cyran '12 ended up third with a time of 1:50.73. Collins took third place in the 100 free with a time of 50.50 seconds.

Fung added runner-up finishes in the 50 free (22.60 seconds) and the 100 butterfly (55.14). Michael Weinzierl '15 was second in the 100 backstroke with a time of 57.42 seconds.

Ian Nichols '13 finished third in the 100 breaststroke in one of the afternoon's best races. Nichols' time was 1:03.99. Just .68 seconds separated the top three finishers.