Men's tennis aces Utica College
---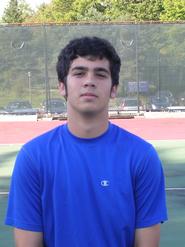 Hamilton College breezed to a 9-0 win against Utica College in a non-conference match at Hamilton's Gray Tennis Courts on Oct. 7.

The doubles team of Drew Libin '12 and Jordan Petit '13 improved to 4-1 this season with an 8-1 victory at first flight. Kolya Kerz '13 and Coby Berman '12 also won 8-1 at second flight doubles, and Ben Swett '14 and Paul Asplin '15 triumphed by an 8-2 score at third flight.

Hamilton (1-0 overall) didn't lose a set in singles play. Libin won his 32nd match for the Continentals with a 6-2, 6-2 victory at first flight. He ranks fourth on the program's career singles wins list.

Petit prevailed 6-2, 6-1 at second flight singles. Berman didn't drop a single game in his third flight win. Kerz (fourth flight), Swett (fifth) and Zach Ferris '14 (sixth) all lost just one game in their matches.

Utica dropped to 0-2 this fall. Hamilton is off until the spring.