Men's tennis competes in St. Lawrence Fall Classic
---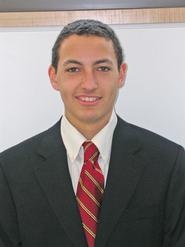 Mike Moreno '11 captured one of the singles bracket titles to lead Hamilton College at the 2010 St. Lawrence University Fall Classic on Sept. 18 and 19.
Moreno didn't lose a set in four matches on his way to victory in the "B" bracket. He defeated opponents from Rochester Institute of Technology, University of Rochester and St. Lawrence before he met teammate Pete Erwin '11 in the final. Moreno topped Erwin 6-1, 6-1 to claim the title.
Other highlights included Moreno and Jon Franzel '13 reaching the final of the "A" doubles bracket, and Erwin and Greg Kreitzer '11 advancing to the final of "B" doubles.
Moreno and Franzel had a bye into the quarterfinals. They defeated opponents from Ithaca College and St. Lawrence before they were edged 8-5 by another Ithaca duo. Kreitzer and Erwin lost just six games in three pro-set matches before they fell 8-3 in the "B" final to a doubles team from Rochester.
Jordan Petit '13 and Franzel won their first round matches in "A" singles. Kolya Kerz '13 also advanced to the quarterfinals in the "C" singles bracket. Petit and Greg Yin '14 won one match in "A" doubles and Kerz and Coby Berman '12 marched into the "B" semifinals after they received a bye into the quarters.
Hamilton is off until the ITA Northeast Region championships at Skidmore College from Oct. 1 to Oct. 4.