Men's tennis competes in regional championships
---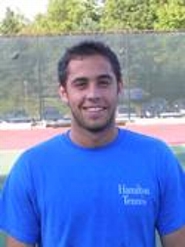 Four members of the Hamilton College men's tennis team competed in the ITA Northeast regional championships held at Millcreek Park in Willingboro, N.J., on Oct. 2 and 3.
Jon Franzel '13 entered the singles competition seeded 10th. In his opening round, he defeated an opponent from Oneonta State, 6-4, 6-2. He earned a victory in the second round over a University of Rochester opponent, 7-6 (2), 6-2. Franzel lost 6-4, 6-4 in the third round to the tournament's No. 1 seed from New York University.
Drew Libin '12 defeated an opponent from NYU in his opening round of singles play, 6-2, 6-2. Libin also won his second-round match, 6-4, 6-1, against the No. 16 seed from Stevens Institute of Technology. In the third round, Libin fell to the No. 4 four seed from Vassar College, 6-3, 6-4.
Mike Moreno '11 also competed for Hamilton in singles competition. He won his opening round match against a Rochester opponent, 7-6 (3), 6-3. In the second round he lost, 6-1, 6-2, to the tournament's No. 2 seed from Vassar. Jordan Petit '13 also competed, but fell 7-6 (4), 7-5 in his opening singles match to an opponent from St. Lawrence University.
In doubles play, the team of Franzel and Libin was seeded seventh and advanced to the quarterfinals before they lost 8-6 to a team from The College of New Jersey. In the opening two rounds they defeated opponents from Hobart College (9-7) and Rochester Institute of Technology (8-1). Moreno and Petit lost 8-1 to a duo from Skidmore College in their opening match. Hamilton's fall season is now complete.