Men's tennis competes in regional championships
---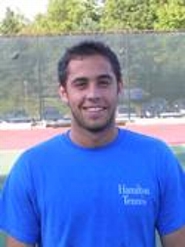 Five Hamilton College men's tennis players competed in the 2010 USTA/Intercollegiate Tennis Association Division III Northeast Regional championships in Saratoga Springs, N.Y., on Oct. 2 and 3.
Jon Franzel '13 won two singles matches and advanced to the round of 16 in the championship draw. Franzel, who was one of 16 seeded players, defeated opponents from Vassar College (6-2, 6-4) and Nazareth College (7-6 [5], 6-4) in straight sets. He lost to the draw's No. 1 seed from host Skidmore College in the third round by scores of 6-1 and 6-1.
Jordan Petit '13 knocked off a Vassar opponent (7-5, 6-2) in the first round before he bowed out in the second round against the No. 4 seed (6-2, 6-2). The College of New Jersey player that defeated Petit advanced to Monday's semifinals.
Petit and Greg Yin '14 won a first round match in the doubles championship draw. They defeated a Nazareth opponent 8-4, but were edged 9-7 in the second round by the No. 1 seed from Ithaca College.
Franzel and Mike Moreno '11 were 8-5 winners against a Hobart College doubles opponent in the first round. They dropped the second round match 8-2 against the No. 2 seed from Vassar.
Hamilton returns to action for the spring season starting in March.