Men's tennis cruises past Union
---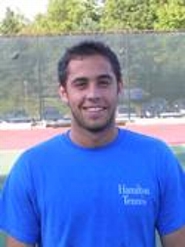 Hamilton College breezed to a 9-0 win against Union College in a non-conference match played indoors at Hamilton's Margaret Bundy Scott Field House on April 13.

The Continentals (4-3 overall) have won three matches by 9-0 scores. Union dipped to 1-6. Hamilton travels to Trinity College for a New England Small College Athletic Conference match on Saturday, April 16.

Jon Franzel '13 was a 6-4, 6-1 winner at first flight singles. Drew Libin '12 didn't lose a game in his second flight singles match. Jordan Petit '13 squeaked by 7-5 in the first set at third singles, but closed out the match with a 6-2 decision in the second set.

Greg Kreitzer '11 prevailed 6-3, 6-1 at fourth flight singles, and Mike Moreno '11 won at fifth flight to win his team-high eighth singles match. Eric Maertin '14 won 8-3 at sixth flight.

In doubles, Franzel and Moreno were 8-2 winners at first flight. Libin and Petit won 8-5 at second flight, and Kreitzer and Peter Erwin '11 improved to 7-4 with an 8-6 victory at third flight.