Men's tennis defeats Union
---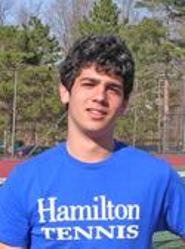 Hamilton College defeated Union College 6-3 in a non-conference match at Union Tennis Courts on April 13.
The Continentals improved to 6-7 overall, while the Dutchmen (1-5) dropped their third straight match. Drew Libin '12 swept his opponent at second flight singles to improve his season record to 15-4. Jordan Petit '13 earned his eighth win of the season, 6-2, 6-0, at third flight singles.
Greg Kreitzer '11 won his sixth match of the year at the fourth spot (6-4, 6-1). At fifth flight singles, Mike Moreno '11 posted a 6-4, 6-2 victory. His record is now 11-7 this season. At the sixth spot, Peter Erwin '11 breezed to his ninth win of the year by scores of 6-1, 6-2. Jon Franzel '13 and Libin teamed up for an 8-1 win at first flight doubles.
The Continentals travel to Amherst College for a New England Small College Athletic Conference match on Saturday, April 17.