Men's tennis drops match in Florida
---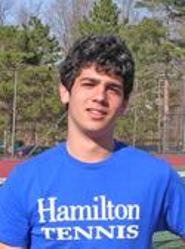 Hamilton College dropped a match to Stevens Institute of Technology, 6-3, in Orlando, Fla., on March 18.
Stevens (5-1 overall) is ranked 12th in the Northeast region by the Intercollegiate Tennis Association. Drew Libin '12 earned a win for the Continentals at second flight singles. Libin defeated his opponent by scores of 6-1, 1-6 and 6-3. Greg Kreitzer '11 also won at fourth flight singles (6-2, 7-5).
In doubles, the team of Michael Moreno '11 and Jordan Petit '13 earned an 8-2 victory at second flight. The Continentals (2-3) play the final match of their spring break trip against Connecticut College on Friday, March 19.