Men's tennis edged by LeTourneau
---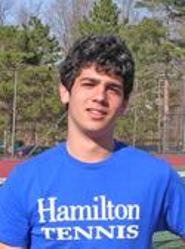 Hamilton College dropped a close match by a 5-4 score to LeTourneau University in Orlando, Fla., as the Continentals opened their spring season on March 15.

The Continentals (1-1 overall) played a total of five tie-breakers and won two of them against a Texas program that is ranked 10th in the West region by the ITA. Drew Libin '12 rallied after losing his first set at second flight singles to win in three sets by scores of 3-6, 7-6 (7-2), and 10-6 in a championship tie-breaker.

At fifth flight singles, Michael Moreno '11 defeated his opponent 6-2, 3-6, (10-7). Peter Erwin '11 also earned a win after dropping the first set at sixth flight 6-7 (4-7), 7-6 (7-2), (10-8).
In doubles action, Greg Kreitzer '11 and Coby Berman '12 teamed up to defeat their third flight opponent, 8-6. The team of Moreno and Jordan Petit '13 dropped a tight match at second flight, 9-8 (7-5).
Hamilton will play again on Tuesday, March 16, against Wayne State University.