Men's tennis edges Wesleyan in NESCAC play
---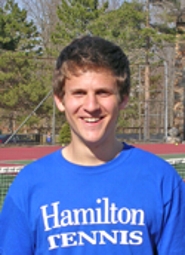 Hamilton College split a pair of New England Small College Athletic Conference matches away from home on April 16 and 17.

Hamilton (5-4 overall, 1-2 NESCAC) edged Wesleyan University 5-4 in Middletown, Conn., on Sunday. The Continentals lost 9-0 to nationally ranked No. 13 Trinity College in Hartford, Conn., on Saturday.

Against Wesleyan (7-8-1, 0-5), Greg Kreitzer '11 won the deciding match in three sets at fourth flight singles, 7-6, 4-6, 6-2. Kreitzer was one of four Hamilton players that won singles matches.

Drew Libin '12 won 6-2, 6-2 at second singles, Jordan Petit '13 prevailed 6-1, 6-4 at third singles and Eric Maertin '14 was a 6-4, 6-3 winner at sixth singles. The second flight doubles team of Libin and Petit claimed an 8-4 victory. The duo improved to 5-4 in doubles play.

The Continentals host St. Lawrence University for a non-conference match on Tuesday, April 19.