Men's tennis falls at Connecticut College
---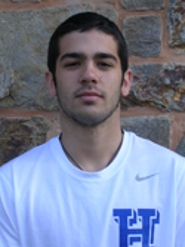 Connecticut College defeated Hamilton College 6-3 in a NESCAC match at Conn. College's South Tennis Courts on April 28.

The Camels (9-8 overall, 2-6 NESCAC) won all three doubles matches, and the teams split six singles matches. Hamilton finished 2011-12 with an 8-7 overall record and an 0-6 mark in the NESCAC.

Drew Libin '12 posted a 6-3, 6-2 win at first flight singles. Libin picked up the 40th win of his Hamilton career, good for second place on the team's all-time list.

Matt Billet '15 tallied his seventh win with a 6-1, 6-1 victory at fifth flight. Ben Swett '14 battled to a 7-5, 6-7, (10-6) decision at sixth flight. Swett led the team with 12 singles victories. Jordan Petit '13 and Coby Berman '12 were edged 9-8 (5) at second flight doubles.