Men's tennis falls to St. Lawrence
---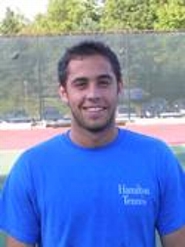 Hamilton College dropped a non-conference match to St. Lawrence University, 7-2, at St. Lawrence's Sammis Tennis Courts on April 21.
The Saints (13-5 overall) are No. 17 in the Intercollegiate Tennis Association's Northeast regional rankings, while the Continentals are 18th.
At first flight singles, Jon Franzel '13 earned his 12th win of the season. Franzel dropped the first set, 6-3, but rallied to win the next two, 6-4 and 7-5. Drew Libin '12 improved his singles record to 16-5 with a 6-1, 6-4 win at second flight.
Jordan Petit '13 (6-2, 2-6, 6-3) and Peter Erwin '11 (7-5, 2-6, 6-4) were edged in close matches at third and sixth flight singles, respectively.
The Continentals travel to Williams College for a New England Small College Athletic Conference match on Saturday, May 1.