Men's tennis falls twice in NESCAC play
---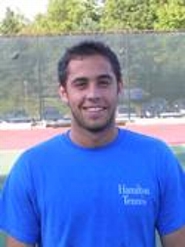 Hamilton College lost two New England Small College Athletic Conference matches against Colby College and Bowdoin College played indoors at Hamilton's Margaret Bundy Scott Field House on April 23 and 24.

The Continentals (6-6 overall, 1-4 NESCAC) fell 7-2 against Colby College on Saturday, and lost by the same score against nationally ranked No. 14 Bowdoin College on Sunday. Hamilton travels to Hobart College for a non-conference match on Wednesday, April 27.

Colby (8-4, 3-4) is ranked 15th in the Northeast Region by the Intercollegiate Tennis Association. The Continentals picked up points from their top two singles players against the Mules. Jon Franzel '13 was a 4-6, 6-1, 6-4 winner at first flight, and Drew Libin '12 breezed to a 6-1, 6-1 victory at second flight. Franzel is tied for the team lead with nine singles wins.

Against Bowdoin (8-5, 3-3), Eric Maertin '14 improved his singles record to 7-5 with an 8-4 victory at sixth flight. Franzel and Peter Erwin '11 teamed up for the first time this season in doubles, and won 8-5 at second flight.