Men's tennis finishes Florida trip with victory
---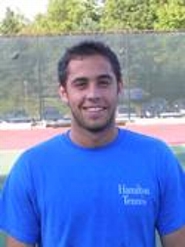 Hamilton College wrapped up its five-match trip to Orlando, Fla., with a convincing 9-0 win against North Central College (Ill.) at the Lake Cane Tennis Center on March 18.

Hamilton (3-2 overall) won all three doubles matches by 8-3 scores. Jon Franzel '13 and Mike Moreno '11 were paired at first flight, Andrew Libin '12 and Jordan Petit '13 teamed up at second flight and Pete Erwin '11 and Greg Kreitzer '11 played third flight.

In singles play, Franzel (first flight), Petit (third), Kreitzer (fourth), Moreno (fifth) and Eric Maertin '14 (sixth) all won in straight sets. Libin won a third set super-tiebreaker 10-3 in second flight action. Moreno is 7-3 in singles play in 2010-11. North Central dropped to 1-1 this spring.

The Continentals --ranked 20th in the Northeast Region by the ITA -- are off until a New England Small College Athletic Conference match against Middlebury College at home on Sunday, April 3.