Men's tennis loses at Hobart
---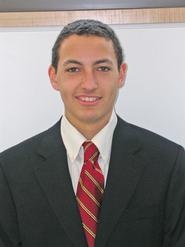 Hamilton College dropped a non-conference match against Hobart College, 6-3, in Geneva, N.Y., on April 27.

Jon Franzel '13 and Peter Erwin '11 improved to 2-0 as a doubles team with an 8-4 victory at second flight. Hamilton trailed 2-1 after doubles play.

Drew Libin '12 and Mike Moreno '11 were the singles winners for the Continentals. Two Hamilton players lost their matches in three sets.

Libin was an easy 6-0, 6-0 winner at second flight as his record improved to 8-5. His lone loss in the last five matches was in three sets against Bowdoin College on April 24.

Moreno cruised to a 6-0 win in his first set at fifth flight, and then gutted out a 7-6 (7-2) victory in the second set tiebreaker. He leads the team with 10 singles wins.

The Continentals wrap up 2010-11 with a New England Small College Athletic Conference match at home against Connecticut College on Saturday, April 30.