Men's tennis loses heartbreaker to Conn. College
---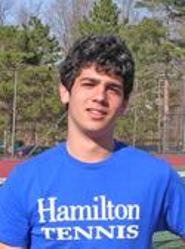 Connecticut College edged Hamilton College 5-4 in a New England Small College Athletic Conference match at Hamilton's Gray Tennis Courts on April 30.

Hamilton (6-8 overall, 1-5 NESCAC) was competitive in all three doubles matches, but came away with one team point. The teams split the six singles matches. The match was the final one this season for the Continentals.

Jordan Petit '13 and Drew Libin '12 were 8-4 winners at first flight doubles. The victory was the seventh this season for the doubles pair.

Libin also won his second flight singles match in three sets (6-3, 4-6, 6-0). He won five of his last six singles matches and finished the season with a record of 9-5.

Mike Moreno '11 outlasted his opponent 6-3, 7-6 (13-11) at fifth flight singles. Moreno led the team with 11 singles wins. Eric Maertin '14 was a 7-5, 6-4 winner at sixth flight. Maertin went 8-6 in his rookie year.