Men's tennis loses NESCAC matches in Maine
---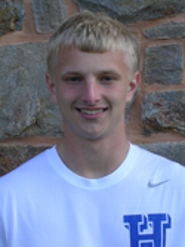 Hamilton College fell to Colby College and nationally ranked No. 9 Bowdoin College in NESCAC matches away from home on April 21 and 22.

Hamilton (8-6 overall, 0-5 NESCAC) is ranked 19th in the Northeast Region in the latest poll released by the Intercollegiate Tennis Association. The Continentals lost 9-0 to Colby, which is ranked 13th in the region, on Saturday. Hamilton dropped an 8-1 decision to Bowdoin indoors on Sunday.

Against Bowdoin (10-5, 6-1), Buck Reynolds '15 rallied for a 2-6, 6-2, (10-7) win at sixth flight singles. Reynolds improved his record to 3-0 in singles play.

Against Colby (11-5, 2-3), Coby Berman '12 and Jordan Petit '13 nearly pulled out a victory at first flight doubles. Berman and Petit were edged, 9-7.

The Continentals are off until Thursday, April 26, when they travel to Union College for a non-conference match. Another non-conference match at Hobart College scheduled for Wednesday, April 25, has been canceled.