Men's tennis nipped by Rensselaer
---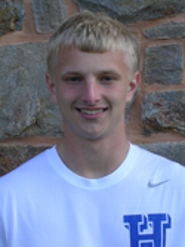 Rensselaer edged Hamilton College 5-4 in a non-conference match played indoors at Hamilton's Margaret Bundy Scott Field House on March 30.

Hamilton (4-3 overall) won half of the six singles matches and one of three doubles matches. The Continentals host Division I Colgate University for another non-conference match on Tuesday, April 2.

James Oliver '15 was a 6-3, 6-2 winner at second flight singles for Hamilton. Ben Stern '16 breezed to a 6-3, 6-1 victory at fifth singles and Ian Antonoff '16 pulled out a 6-3, 6-4 triumph at sixth singles. Buck Reynolds '15 and Matt Billet '15 cruised to an 8-3 win at second flight doubles.

Rensselaer (9-2) pulled out several close decisions in order to win its sixth straight match. The Engineers prevailed in three sets in a pair of singles matches and won a tiebreaker at first flight doubles.