Men's tennis picks up first win of spring season
---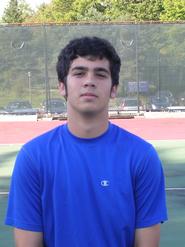 Hamilton College picked up its first win of the spring season, a 7-2 victory over Drew University in a non-conference match played in Orlando, Fla., on March 13.

Hamilton (2-1 overall) plays four more matches during its spring trip to Florida. The Continentals take on Roger Williams University on Wednesday, March 14, at 4 p.m.

Drew Libin '12 didn't drop a game at first flight singles to claim the 33rd victory of his Hamilton career. Coby Berman '12 posted a 6-3, 6-1 win at fourth flight, and Matt Billet '15 cruised to a 6-2, 6-1 win at fifth flight. Ben Swett '14 rounded out the Continentals' lineup with a 6-3, 6-3 win at sixth flight.

Libin and Jon Franzel '13 evened their doubles record at 1-1 with an 8-5 victory at first flight. Berman and Jordan Petit '13 outlasted their opponents 9-7 at second flight doubles, and Billet and Buck Reynolds '15 were victorious by an 8-3 score at third flight.