Men's tennis picks up win over St. Lawrence
---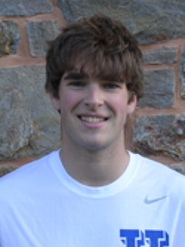 Hamilton College defeated St. Lawrence University 7-2 in a non-conference match at St. Lawrence's Newell Field House on April 17.

Hamilton (8-4 overall) won all six singles matches in straight sets. The Continentals are ranked 19th in the Northeast Region by the Intercollegiate Tennis Association. St. Lawrence (1-14) took two of the three doubles matches.

Drew Libin '13 and Buck Reynolds '15 led the Continentals with victories at first and sixth flight singles, respectively. The pair teamed up for an 8-5 win at second flight doubles. Libin is the team's all-time leader with 35 doubles victories, and ranks second with 39 singles wins.

Jordan Petit '13 posted a 6-4, 6-4 win at second flight singles for his ninth victory. Coby Berman '12 collected his sixth win with a 7-6 (5), 6-4 triumph at third flight.

Ben Swett '14 posted a 7-6 (4), 6-2 win at fourth flight. Swett leads the team with 11 victories. Kolya Kerz '13 captured a 7-6 (6), 6-2 decision at fifth flight for his seventh win.

Hamilton travels to Colby College for a NESCAC match on Saturday, April 21, at 2 p.m.