Men's tennis players win three titles at St. Lawrence
---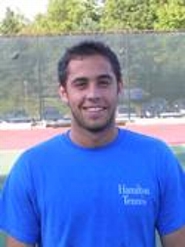 Hamilton College captured three of the five singles and doubles bracket titles at the two-day St. Lawrence University Fall Classic that concluded on Sept. 20.
Jon Franzel '13 won the "A" singles championship and paired with Drew Libin '12 to claim "A" doubles. Coby Berman '12 recorded four victories in "C" singles to win that bracket. Hamilton and St. Lawrence were joined by Nazareth College, Rochester Institute of Technology and the University of Rochester at the five-team event.
Franzel defeated an RIT opponent 6-2, 6-3 in the "A" quarterfinals and breezed to a 6-4, 6-1 win against a Rochester opponent in the semis. He then squeezed out a 7-6 (7), 7-5 victory against teammate Libin in the finals. Libin was an easy 6-1, 6-1 winner against a Nazareth opponent in the quarters. He rebounded from a loss in the first set of his semifinal match against a Rochester player to win 6-4 in the second set and 10-7 in the third set super-tiebreaker, and set up the match with Franzel.
Jordan Petit '13 reached the finals of the "B" singles bracket by winning three matches in straight sets. Petit fell to a St. Lawrence player 6-4, 2-6, (10-7) in the championship match. Mike Moreno '11 advanced to the semifinals in the same bracket and Victor Zimmermann '12 prevailed in the first round, 6-4, 2-6, (10-6).
Berman dropped just one set on his road to the "C" title. He blew by a Rochester player 6-4, 6-0 in the final. Berman's toughest match came in the quarters against a Nazareth opponent, 4-6, 6-0, (10-4). Peter Erwin '11 defeated an RIT player 6-1, 6-3 in the first round.
After breezing through the quarters and semis in "A" doubles, the teams of Libin and Franzel and Petit and Moreno met in another all-Hamilton final. Libin and Franzel dispatched their teammates by the score of 8-1.
A handful of Continentals will compete in the ITA Northeast regional championships at Millcreek Park in Willingboro, N.J., from Oct. 2 through Oct. 4.