Men's tennis pushes win streak to four
---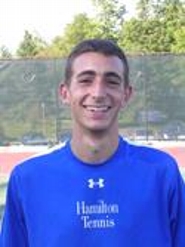 Hamilton College remained perfect in Orlando, Fla., with 9-0 wins against Curry College and Rensselaer on March 15.

Hamilton (5-1 overall) will attempt to wrap up a 5-0 spring break record on Friday, March 16, when the Continentals take on Otterbein University. Curry (0-3) remained winless and Rensselaer's record evened at 6-6.

Jordan Petit '13 won singles matches at first and third flight on Thursday. Matt Billet '15 was a winner at second and fourth flight singles, Ben Swett '14 was victorious at third and fifth flight and Kolya Kerz '13 picked up wins at fourth and sixth flight.

Buck Reynolds '15 and Stephen Rosenman '13 earned their first singles wins of the season at fifth and sixth flight, respectively, against Curry. Drew Libin '12 won a tough first flight match against Rensselaer. Libin and his opponent split the first two sets before Libin prevailed 10-4 in the third set super-tiebreaker. Jon Franzel '13 won in straight sets at second flight singles against the Engineers.

In doubles play, Libin and Franzel (first flight), Billet and Reynolds (second) and Petit and Kerz (third) all won 8-0 against Curry. Libin and Franzel paired up for another win at first flight against Rensselaer, and Petit and Swett captured the victory at second flight. Billet and Reynolds were 9-7 winners at third flight.