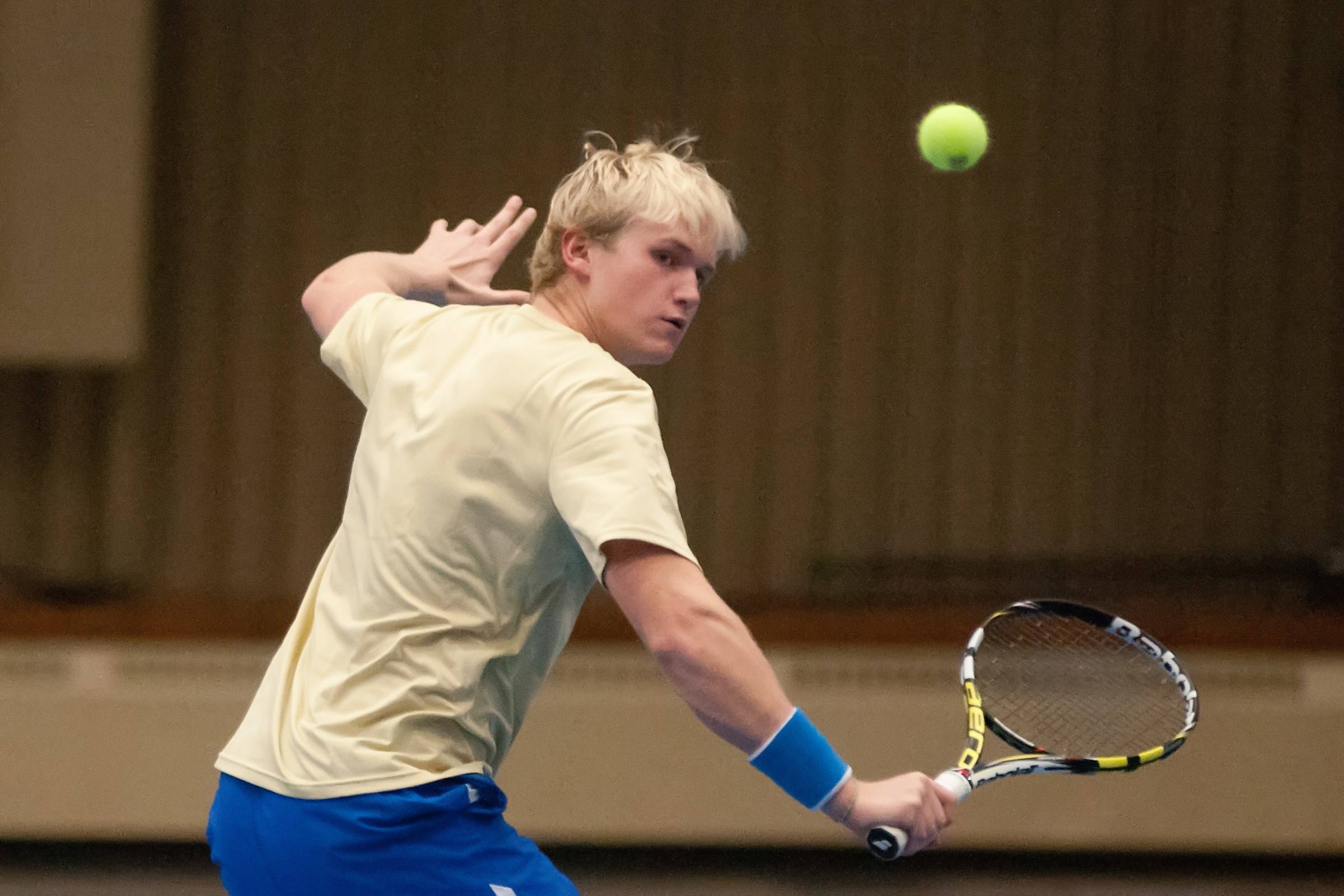 The Hamilton College Continentals snapped a four-match losing streak with an 8-1 non-conference win over the Union College Dutchmen at Hamilton's Margaret Bundy Scott Field House on Wednesday.

Ian Antonoff '16 and Max McKee-Proctor '17 were double winners for Hamilton (8-8 overall). Antonoff improved to a team-best 12-7 on the year with a straight-set victory at third flight singles and teamed with Devin White '17 to win 8-4 at second flight doubles. The pair owns a record of 5-3.

McKee-Proctor (7-4 in singles) dropped just three games in sweeping his sixth flight singles match after he paired with Austin Lokre '16 for a third flight doubles win. Lokre and McKee-Proctor are the Continentals' winningest doubles team with a 13-6 mark.

Playing first flight doubles, the team of James Oliver '15 and Ben Swett '14 evened their season record at 4-4 with an 8-6 win.

Jack Vissicchio '17 and Burke Paxton '17 were straight-set winners at fourth and fifth flight singles, respectively. Jonathan Cohen '17 won his 10th match with a three-set victory at second flight singles.

The Continentals are back in action on Thursday, April 17, at SUNY Oneonta for a non-conference match at 4 p.m. Union is idle until a non-league match at Hartwick College on Thursday, April 24.
Doubles competition
1. James OLIVER/Ben SWETT (HAM) def. T.J. Moor/Grant Zaccaro (UN) 8-2
2. Ian ANTONOFF/Devin WHITE (HAM) def. Spencer Fontein/Anthony
Laurencio (UN) 8-4
3. Austin LOKRE/Max McKEE-PROCTOR (HAM) def. David Brown/Brendan Conry (UN) 8-6

Singles competition
1. T.J. Moor (UN) def. Ben SWETT (HAM) 6-1, 6-4
2. Jonathan COHEN (HAM) def. Grant Zaccaro (UN) 6-4, 0-6, 6-3
3. Ian ANTONOFF (HAM) def. Anthony Laurencio (UN) 7-6, 6-1
4. Jack VISSICCHIO (HAM) def. Spencer Fontein (UN) 7-6, 6-1
5. Burke PAXTON (HAM) def. Michael Donadio (UN) 6-0, 6-2
6. Max McKEE-PROCTOR (HAM) def. David Brown (UN) 6-2, 6-1

Union 2-6; Hamilton 8-8