Men's tennis splits another pair of matches
---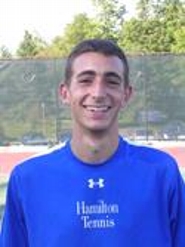 Hamilton College split two non-conference matches played in and around Orlando, Fla., on March 16 and 17.

Hamilton (2-2 overall) defeated Berry College 8-1 at Lake Cane Tennis Center in Orlando on Wednesday, and lost 8-0 against Franklin & Marshall College at Oak Street Park in Kissimmee, Fla., on Thursday. The first flight doubles match was not played against Franklin & Marshall (3-2).

Against Berry (6-6), the Continentals swept the six singles matches, as five Hamilton players won in straight sets. Jon Franzel '13 needed a super-tiebreaker to pull out a victory at first flight singles. Andrew Libin '12 (second flight), Jordan Petit '13 (third), Greg Kreitzer '11 (fourth), Michael Moreno '11 (fifth) and Eric Maertin '14 (sixth) also prevailed in singles play.

Petit and Libin enjoyed an easy 8-0 victory at second flight doubles. Pete Erwin '11 and Kreitzer were 8-4 winners at third flight. The Continentals are ranked 20th in the Northeast Region by the Intercollegiate Tennis Association.