Men's tennis splits first two matches in Florida
---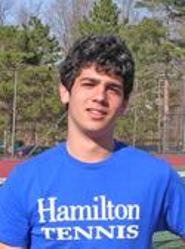 Hamilton College blanked Schreiner University 9-0 on March 14 and lost by the same score against McMurry University on March 15 in matches played in and around Orlando, Fla., against Division III programs from Texas.

Hamilton (1-1 overall) takes on Berry College at the Lake Cane Tennis Center in Orlando on Wednesday, March 16.

Against Schreiner (1-4), Jon Franzel '13 and Michael Moreno '11 were 8-2 winners at first flight doubles. Andrew Libin '12 and Jordan Petit '13 breezed to an 8-1 victory at second doubles, and Peter Erwin '11 and Greg Kreitzer '11 posted an 8-4 win at third doubles.

The Continentals won all six singles matches in straight sets. Franzel surrendered just one game at first flight, and Libin won 6-1, 6-2 at second flight. Petit lost two games at third flight, and Kreitzer was a 6-2, 7-5 winner at fourth flight. Moreno shut out his opponent at fifth flight, and Eric Maertin '14 won 6-0, 6-1 at sixth flight in his Hamilton debut.

Against McMurry (9-1), the Continentals lost two doubles matches by 8-6 scores. Franzel and Libin extended their opponents to three sets in singles play.