Men's tennis stymies St. Lawrence
---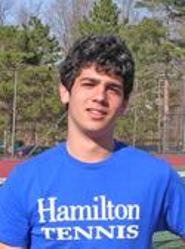 Hamilton College won all six singles matches en route to an 8-1 victory against St. Lawrence University in a non-conference match played indoors at Hamilton's Margaret Bundy Scott Field House on April 19.

The Continentals (6-4 overall) led 2-1 after the doubles matches. Drew Libin '12 and Jordan Petit '13 prevailed 8-6 at second flight, and Greg Kreitzer '11 and Peter Erwin '11 won a 9-7 thriller at third flight. Kreitzer and Erwin lead the team with eight doubles victories.

In singles play, Libin (second flight), Petit (third), Kreitzer (fourth), Jon Franzel '13 (first) and Eric Maertin '14 (sixth) all won in straight sets. Kreitzer picked up his 24th career singles win at Hamilton. Mike Moreno '11 outlasted his opponent in three sets, 1-6, 6-0, 6-3, at fifth flight. Moreno leads the team with nine singles wins.

St. Lawrence (5-8) lost its fifth straight match. The Continentals host Colby College on Saturday, April 23, and Bowdoin College on Sunday, April 24, for New England Small College Athletic Conference matches.