Men's tennis wins again in Florida
---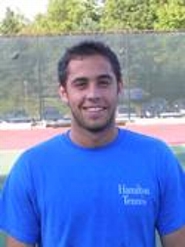 Hamilton College swept all three doubles matches and the Continentals went on to post an 8-1 win against Roger Williams University in a non-conference match played in Orlando, Fla., on March 14.

Hamilton (3-1 overall) defeated a 2011 NCAA championship participant for the second straight day. The Continentals breezed to a 7-2 victory against Drew University on Tuesday. Roger Williams' record dipped to 1-5.

Drew Libin '12 and Jon Franzel '13 were 8-2 winners at first flight doubles, and Coby Berman '12 and Jordan Petit '13 cruised to an 8-1 triumph at second flight. Matt Billet '15 and Buck Reynolds '15 picked up an 8-3 victory at third flight.

Libin (first flight singles), Franzel (second flight), Petit (third flight), Billet (fifth flight) and Ben Swett '14 (sixth flight) won their singles matches in straight sets. Libin and Billet lost just two games to their opponents.

Hamilton plays a pair of matches in Orlando on Thursday, March 15. The Continentals are scheduled to take on Curry College at 9 a.m. and then Rensselaer at 4 p.m.