Men's track & field competes at Cornell University
---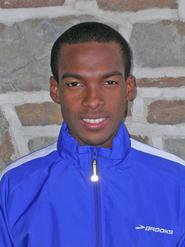 Hamilton College athletes competed in the multi-divisional, non-team scoring Marc Deneault Memorial Invitational held at Cornell Universty's Barton Hall on Feb. 21.
TiDelco Ductan '09 smashed his own school record on his way to second place in the triple jump. Ductan's 14.31 meters (46-feet-11½) bested his 4-year-old school record of 13.92 meters. The mark also made a provisional cut for the NCAA Division III championships.
Peter Kosgei '10 bested the 41-man field in the mile run as he won by nearly 10 seconds with an NCAA provisional time of 4:14.19. Will Reid '10 crossed the finish line in eighth place with a time of 4:32.81.
Hamilton will compete in the New York State Collegiate Track Conference championships at the Rochester Institute of Technology on Feb. 27 and 28.