Men's track & field competes at Syracuse Invitational
---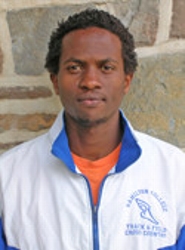 Hamilton College athletes finished first in two events at the multi-divisional, non-team scoring Syracuse University Invitational held at Manley Field House on Feb. 7.
Peter Kosgei '10 returned to competition for the first time this season and made an immediate impact. Kosgei captured first place in the 3,000-meter run with a school-record time of 8:19.44. He edged a Syracuse athlete by .83 seconds. A total of 53 runners competed in the event. Kosgei also held the old record of 8:26.22, which he set last season.
TiDelco Ductan '09 took first place in the triple jump for the fourth straight meet. Ductan's mark of 13.49 meters was the best out of 14 athletes. He also owns the school record of 13.92 meters.
Ductan, Kosgei and the rest of the team compete in the Liberty League championships at St. Lawrence University on Saturday, Feb. 14. Events start at 11 a.m.