Men's track & field competes in state meet
---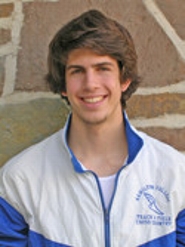 Hamilton College won the 3,200-meter relay and the Continentals finished in seventh place at the New York State Collegiate Track Conference championships, which were held at St. Lawrence University on May 1 and 2.
Hamilton finished with 37 team points and Ithaca College won the nine-team meet with 201 points. The top three finishers in each event earn all-state honors. A handful of Continentals have qualified to compete in the ECAC Division III championships at Springfield College on May 14 and 15.
The 3,200-meter relay of James Grebey '12, Cam Gaylord '09, Cuffie Winkler '10 and seven-time NCAA champion Peter Kosgei '10 claimed the lone victory for Hamilton with a time of 7:59.53. Grebey also took fifth place in the 800-meter run with a time of 1:58.03.
James Russell '09 cleared 4.56 meters (14-feet-11½) to finish second in the pole vault. TiDelco Ductan '09 posted a mark of 13.77 meters (45-feet-2¼) for second place in the triple jump. Berk Ildiz '12 ended up in sixth place at 13.23 meters (43-feet-5). Ductan qualified for the ECAC meet. Josh Orndorff '11 put the shot 13.39 meters (43-feet-11¼) for sixth place.