Men's track & field hosts Continental Invitational
---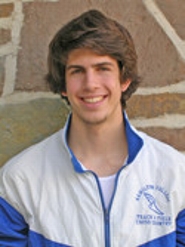 James Grebey '12 and Scott Bickard '11 were Hamilton College's top performers as Hamilton hosted the non-team scoring Continental Invitational at Pritchard Track on April 2.

Grebey finished first by nearly six seconds in the 1,500-meter run with a time of 4:06.59. Bickard captured first place in the 5,000-meter run in 15:25.42. Hashem Zikry '13 was runner-up with a time of 15:46.73. A total of 25 athletes competed in the event.

Josh Orndorff '11 led Hamilton in the field events. Orndorff was third in the shot put with a distance of 13.81 meters (45 feet, 3.75 inches), third in the hammer throw at 42.61 meters (139 feet, 9 inches) and fifth in the discus with a distance of 34.00 meters (111 feet, 6 inches).

Jeffrey Blackburn '13 took second place in the triple jump with a mark of 12.76 meters (41 feet, 10.5 inches), and Ricardo Welch '14 finished fifth in the javelin throw with a toss of 43.47 meters (142 feet, 7 inches).

More than 10 teams participated in the meet. The Continentals are in an invitational at the University of Rochester on Saturday, April 9.